Main content starts here, tab to start navigating
White Oak Treehouse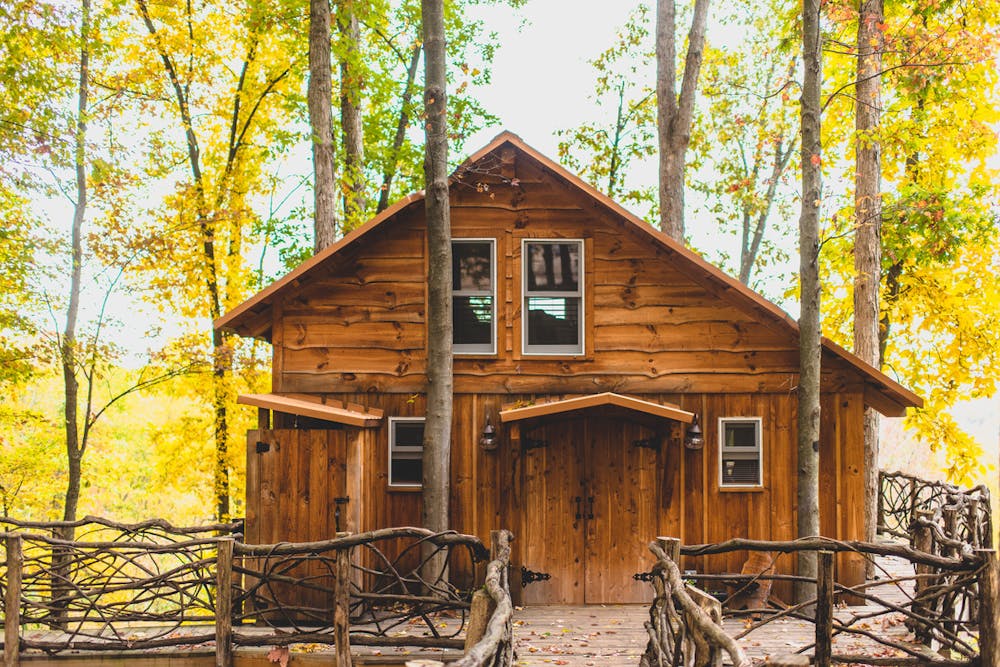 White Oak Treehouse is suspended from white oak and hickory trees on a hillside overlooking the Mohican Valley and is accessed from the hillside by a beautiful bridge. The treehouse has a hand crafted cedar double door entrance, kitchenette, living room, bathroom, first floor bedroom (1 queen bed), upstairs loft (2 queen beds), and outdoor shower.

The kitchen cabinets are constructed out of reused, 100 year old barn wood. A magnificent 3 sided wrap around porch provides views of the Mohican Valley. This treehouse is truly spectacular.
Please call for more information and to book - 740-599-9030
Slide 1 of 11
Slide 2 of 11
Slide 3 of 11
Slide 4 of 11
Slide 5 of 11
Slide 6 of 11
Slide 7 of 11
Slide 8 of 11
Slide 9 of 11
Slide 10 of 11
Slide 11 of 11
Amenities
2 Bedrooms
Bedroom 1-lower level, 1 queen
Bedroom 2-upper level loft, 2 queens
1 Full bath - main floor, shower, sink, toilet, blow dryer
1 Outdoor shower
All linens and towels provided
Soap, Shampoo & Conditioner
Kitchen - all plates, silverware, cookware, drink ware and serving ware, mini-refrigerator, microwave, convection toaster oven, coffee maker with complimentary coffee and filters, 2 burner gas cooktop
Living room - sectional sofa, TV/DVD (for movie viewing only so bring DVD's! no satellite or cable)
Charcoal grill at ground level is included-please bring charcoal
Fire Pit
Deck - 4 top table + chairs
Fully heated and A/C.
NO internet/wifi available. Enjoy your unplugged stay!
What to bring...
Kitchen - spices, ICE, aluminum foil, plastic wrap, ziploc bags, garbage bags, specialty cooking items (roasters, blenders, etc.), mini cooler for extra storage and ice.

Bathroom - Although towels are provided you may want to bring extra for outdoor activities. Bathrobe/slippers for outdoor shower when in season.

General - charcoal, firewood for outdoor fire pit (can be purchased in Loudonville at the Marathon Station on State Route 3 across from Mohicans Adventures Canoe Livery), Games, DVD's & Books
Treehouse Fun Facts
On May 1st, 2012, The Mohicans began an exciting project with treehouse designer and star of Discovery Channel's new series "Treehouse Masters," Pete Nelson, and commenced building our first treehouse- White Oak. We have since completed a second Pete Nelson treehouse which was featured on the show in June 2013. Click here to check out Little Red!