Main content starts here, tab to start navigating
Little Red Treehouse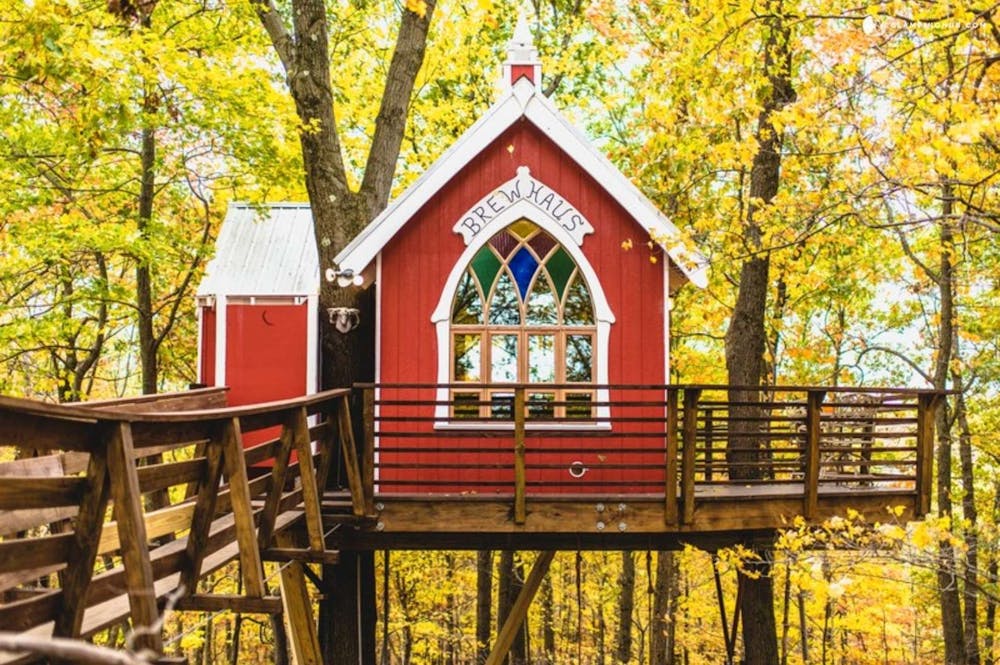 If you have a more adventurous side, this treehouse may be your choice. This 2 guest treehouse was originally constructed for the Animal Planet/Discovery Channel Show "Treehouse Masters" featuring world-renowned treehouse designer, Pete Nelson. Pete Nelson's crew from Nelson Treehouse Supply and a local Amish crew constructed the treehouse in March 2013.

Initially, the interior was designed as a brewery/tasting center for the owner's Treehouse Brewing Company Beer. Since the airing of the show in June 2013, the interior has been renovated and converted to a treehouse cabin to allow for overnight lodging. Please call for more information and to book - 740-599-9030
Slide 1 of 8
Slide 2 of 8
Slide 3 of 8
Slide 4 of 8
Slide 5 of 8
Slide 6 of 8
Slide 7 of 8
Slide 8 of 8
Amenities
1 queen bed loft with ladder access
1 indoor toilet, blow dryer
1 Outdoor shower-warm weather only (there is hot water in the kitchen all year round)
Kitchen -all plates, silverware, cookware, drinkware, and serving ware, mini-refrigerator, microwave, toaster, coffee maker with complimentary coffee and filters, 2 burners electric cooktop
Living area - sectional sofa, TV/DVD (for movie viewing only so bring DVD's! no satellite or cable)
Deck
Charcoal grill - on ground level, please bring charcoal
Electric heat unit for winter. A/C for summer
All linens and towels provided
NO internet/wifi available. Enjoy your unplugged stay!
What to bring...
Kitchen - spices, ICE, aluminum foil, plastic wrap, ziploc bags, paper towels/napkins, garbage bags, specialty cooking items (roasters, blenders, etc.)

Firewood-(can be purchased in Loudonville at the Marathon Station on State Route 3 across from Mohicans Adventures Canoe Livery)
Mini cooler for extra storage and ice.

Bathroom - bath soap, shampoo/conditioner, although towels are provided, you may want to bring extra for outdoor activities.

General - DVDs as tv is for movie watching only (no satellite or cable) alarm clock
Approach and Design
The approach to the treehouse is dramatic and includes a set of stairs that lead you up to a 30-foot extension bridge. The bridge alone is design magic. The red exterior of this treehouse is reminiscent of the many 1800's era red barns that dot the countryside of mid-central Ohio.

Pete Nelson's crew designed the unique 5-foot stained glass window that graces the east side of the treehouse bringing in the morning sunrise in an array of blues, greens, and yellows. An outdoor shower lies just at the end of the extension bridge for a little warm weather clean up and in cold weather, for those willing to embrace the chill (shower shut down November-March?). A lovely wrap around deck sets atop the sturdy platform complete with a high top table and chairs for taking in the sights.

The front of the treehouse is dressed top to bottom with windows so that guests feel as if they are living amongst the trees. The interior walls are covered in wood siding from the property- no drywall found anywhere on this property. A built-in sofa made of reclaimed barn timbers and siding is topped with soft pillows made by the local Amish seamstresses. A hickory rocker made just up the road is the perfect rustic touch.
Stay in and Relax
Wanting to snuggle up and watch a movie? No problem! There is a compact flat screen TV/DVD player just the perfect size for the treehouse. Enjoy your meal with a spectacular view of the Mohican forest from the high top counter and bar stools that look out one of the 12 windows. The kitchenette is also complete with everything you might need for your stay-microwave, electric cooktop, toaster, and coffee maker. The cabinets are handmade of the familiar reclaimed barn timbers and slab wood counters varnished with a mirrored gloss tops them off. The loft sleeping quarters are accessed by a ladder that takes guests up to a queen bed platform just tall enough to sit up in- did someone say hayloft? Fun and fanciful is the theme of this treehouse. The queen bed platform draped in down overlooks the living area with a beautiful view of the stained glass window. An indoor toilet room with a sliding barn door is the final touch to this rustic barn style treehouse.