Main content starts here, tab to start navigating
The Tin Shed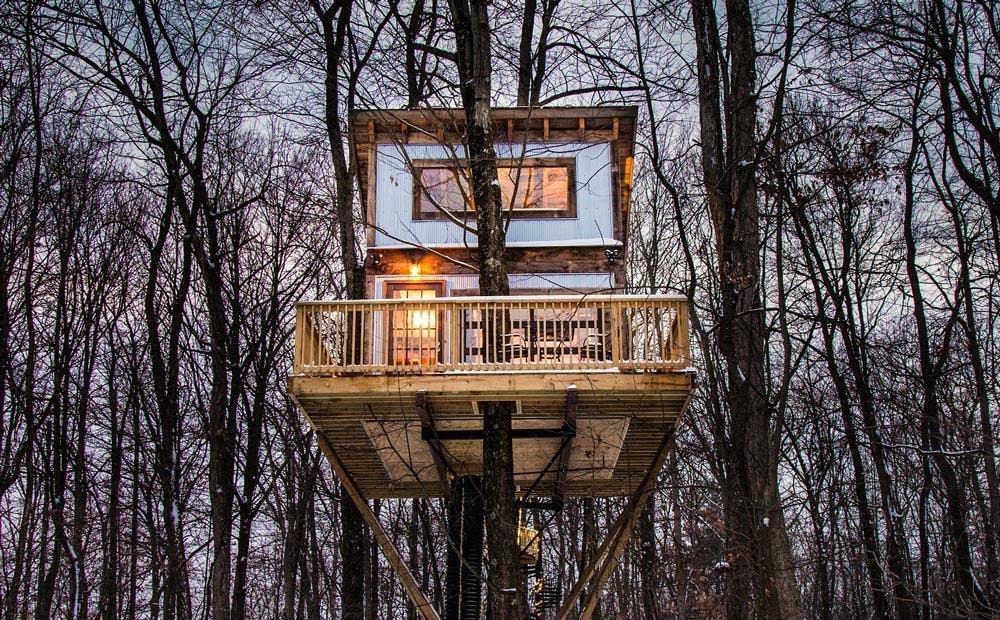 Welcome to the Tin Shed Treehouse! This is the most ambitious treehouse project completed at The Mohicans! Named after the locally renowned Tin Shed Garden Cafe on Alberta Street in the Alberta Arts area of Portland, Oregon, also home to one of the owner's sons. This modern feel treehouse brings the outside in with a full-sized high-end garage door on the back of the treehouse and a one of a kind 100-foot extension bridge. Getting to the bridge includes climbing the 25-foot high spiral steel staircase which takes guests to the extension bridge that carries them out to the treehouse. Feel the sway of the bridge as you cross! If you like a bit of a thrill, this treehouse is for you.

The corrugated metal exterior coordinates the modern design with the natural feel. Lots of windows let guests view the beautiful treetop canopy from all sides along with a full wrap-around deck.

A kitchen filled with all the necessities and a comfy yet luxurious lounge area lets guests feel right at home in their treetop escape. The full bath is cozy, but provides everything you need to freshen up including a shower with ceramic tile. The sleeping loft, accessible by ladder, has 2 queen beds with a spectacular eastern view so that guests can enjoy a gorgeous treehouse sunrise. But go ahead, take your time, you are in a treehouse!
**Please note, the use of the garage door, outdoor shower and spiral staircase are seasonal. Those features are closed during the winter months**
Please call for more information - 740-599-9030
Slide 1 of 34
Slide 2 of 34
Slide 3 of 34
Slide 4 of 34
Slide 5 of 34
Slide 6 of 34
Slide 7 of 34
Slide 8 of 34
Slide 9 of 34
Slide 10 of 34
Slide 11 of 34
Slide 12 of 34
Slide 13 of 34
Slide 14 of 34
Slide 15 of 34
Slide 16 of 34
Slide 17 of 34
Slide 18 of 34
Slide 19 of 34
Slide 20 of 34
Slide 21 of 34
Slide 22 of 34
Slide 23 of 34
Slide 24 of 34
Slide 25 of 34
Slide 26 of 34
Slide 27 of 34
Slide 28 of 34
Slide 29 of 34
Slide 30 of 34
Slide 31 of 34
Slide 32 of 34
Slide 33 of 34
Slide 34 of 34
Amenities
Limited cell service at this treehouse (mainly text with Verizon and ATT only)
1 Bedroom (loft with ladder access) 2 queen beds
1 Full bath - main floor, shower, sink, toilet, blow dryer
1 Outdoor shower
All linens and towels provided
Soap, Shampoo & Conditioner
Kitchen - all plates, silverware, cookware, drinkware and serving ware, mini-refrigerator, toaster oven, coffee maker with complimentary coffee and filters, 2 burner electric cooking element
Living room - sofa, 2 chairs, TV/DVD (for movie viewing only so bring DVD's! no satellite or cable)
Eating area for 4 guests
Deck - 2 chairs/table
Charcoal grill and picnic table - please bring charcoal
Fire Pit
Fully heated and A/C
*Garage door is only operational in warm months*
Wifi available. Stay connected during your visit!
What to bring...
Kitchen - spices, ICE, aluminum foil, plastic wrap, Ziploc bags, paper towels/napkins, extra garbage bags, specialty cooking items (roasters, blenders, etc.)
Mini cooler for extra storage/ice

Firewood-(can be purchased in Loudonville at the Amoco Station on State Route 3 across from Mohicans Adventures Canoe Livery)

Bathroom - although towels are provided, you may want to bring extra for outdoor activities.
Treehouse Fun Facts
On May 1st, 2012, The Mohicans began an exciting project with treehouse designer and star of Discovery Channel's new series "Treehouse Masters", Pete Nelson, and commenced building our first treehouse -the White Oak. We have since completed a second Pete Nelson treehouse which was featured on the show in June 2013. Click here to check out Little Red!