Main content starts here, tab to start navigating
The Nest Treehouse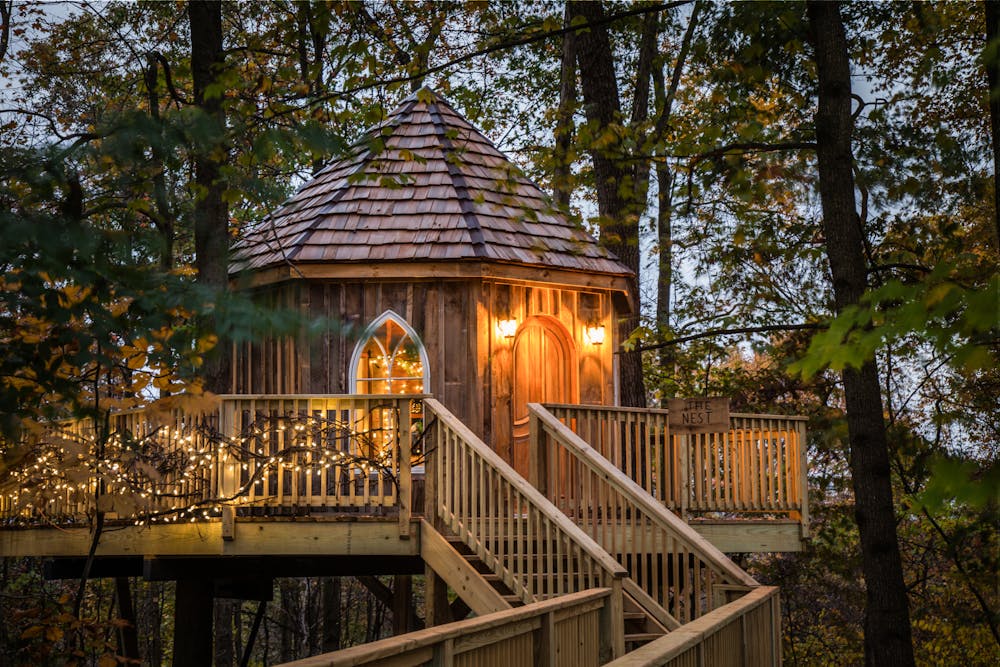 The Nest Treehouse is the creative brainchild of world-renowned treehouse designer and builder, Roderick Romero. Roderick provided the round single room suite design which makes it especially quaint. Guests lucky enough to be staying at The Nest is connected to the venue by a long elevated bridge and has a spectacular view of The Mohicans Wedding Venue with its dramatic decks and timber frame construction. The Nest is also the quintessential honeymoon suite but perfect for other couples too! The Nest twinkle lights brighten the treehouse and local grapevines are woven into the deck rails creating the feel of tangled nest branches and a welcoming "Nest" sign hangs from a limb to greet guests.

The solid mahogany front door fabricated in and delivered from California has a rounded top and blends in with the wood façade of the treehouse. Decorative cathedral windows add a charming touch to the whimsy of The Nest and the cedar shingle roof is the perfect topper to this sweetheart of a treehouse. Step inside and guests are immediately struck by the rich chocolate-colored glossy black walnut floor which matches the stunning round ceiling. Because of its unique shape, the octagonal ceiling took triple the time to construct but was well work the effort! The walls are reclaimed red barn siding and accent beautifully with the walnut. This single room treehouse has a lovely sitting area for guests to relax from a long day. A black wrought iron canopy bed draped in exquisite bedding invites guests to a long night of slumber. Lovely decorative accent pieces create a space that is inviting and comfortable for guests including a pewter chandelier. A half bath with a functional space-saving barn door provides all the comforts of home and an outdoor shower with a view of the woods is an extra special experience during warm weather.

Wake up and enjoy a cup of coffee on the magnificent wrap-around deck which extends to the venue or just relax and listen to the sounds of nature. However you choose to spend your time in The Nest Treehouse, it promises to be memorable.
Please call for more information - 740-599-9030
Slide 1 of 6
Slide 2 of 6
Slide 3 of 6
Slide 4 of 6
Slide 5 of 6
Slide 6 of 6
Amenities
Single room suite (queen bed)
TV/DVD (for movie viewing only so bring DVD's! no satellite or cable)
Lounge chair/table
1/2 Bath - sink, toilet, blow dryer
1 Outdoor shower (warm weather only)
All linens and towels provided
Soap, Shampoo & Conditioner
Coffee maker with complimentary coffee and filters & mini refrigerator
Microwave
Deck - 2 chairs/table
Charcoal grill - please bring charcoal
Fire Pit
Fully heated and A/C
NO internet/wifi available. Enjoy your unplugged stay!
What to bring...
Mini cooler for extra storage and ice.

Bathroom - Although towels are provided you may want to bring extra for outdoor activities. Bathrobe/slippers for outdoor shower when in season.

General - charcoal, firewood for outdoor fire pit (can be purchased in Loudonville at the Marathon Station on State Route 3 across from Mohicans Adventures Canoe Livery), Games, DVD's & Books
Treehouse Fun Facts
On May 1st, 2012, The Mohicans began an exciting project with treehouse designer and star of Discovery Channel's new series "Treehouse Masters", Pete Nelson, and commenced building our first treehouse- the White Oak. We have since completed a second Pete Nelson treehouse which was featured on the show in June 2013. Click here to check out Little Red!