Main content starts here, tab to start navigating
The Farm House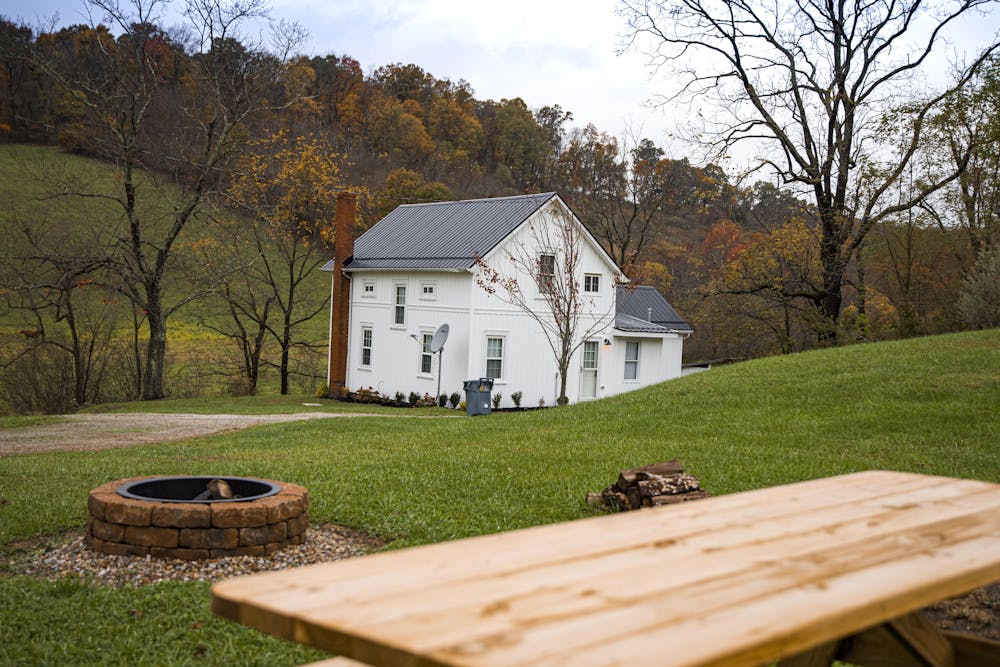 This amazing newly renovated country home nestled in the rolling hills of Knox County is on 2 acres and includes 3 bedrooms and 2 full baths accommodates up to 8 guests. Located 2.4 miles from The Mohicans Treehouse Resort is available for private rental.
This property has internet service so you can stay connected while enjoying your visit! Please be advised, we offer Satellite Internet service, which can be slower than the high speed services many are used to. Inclement weather can also affect the service quality.
First floor includes modern kitchen with full size appliances including gas range, dishwasher and refrigerator, reading lounge, living room, full bath and queen bedroom (bedroom #1). Second floor includes queen bedroom (bedroom #2), double queen bedroom (bedroom #3) and full bath. Outdoor deck with picnic table and large yard. Well appointed furnishings and thoughtful decor. Satellite, internet, and TV, central air and heat.
PLEASE NOTE:
A one time cleaning fee of $150 will be added upon checkout to all one night Farm House reservations.
This fee will be waived for Multi-night stays.
NO PETS Allowed
This property is not on-site of the Mohicans Treehouse Resort. It is a 6 minute drive (2.4 miles)
Slide 1 of 19
Slide 2 of 19
Slide 3 of 19
Slide 4 of 19
Slide 5 of 19
Slide 6 of 19
Slide 7 of 19
Slide 8 of 19
Slide 9 of 19
Slide 10 of 19
Slide 11 of 19
Slide 12 of 19
Slide 13 of 19
Slide 14 of 19
Slide 15 of 19
Slide 16 of 19
Slide 17 of 19
Slide 18 of 19
Slide 19 of 19
Amenities
3 Bedrooms
2 Full bath
Bedroom 1 - First floor, 1 queen
Bedroom 2 - Second floor, 1 queen
Bedroom 3 - Second floor, 2 queens
Kitchen - refrigerator, dishwasher gas range, microwave, coffee maker & filters, toaster, pots, pans, and all the basics, dining area
Propane Grill
TV/DVD (satellite)
Internet
Picnic table, fire pit
All linens and towels included
Soap, Shampoo & Conditioner
Iron and Ironing mat
What to bring...
Kitchen - spices, ICE, aluminum foil, plastic wrap, Ziplocs, garbage bags, specialty cooking items/appliances.

Bath - soap, shampoo/conditioner, although towels are provided, you may want to bring extra for outdoor activities.
Games, DVD's, Books, Firewood (can be purchased in Loudonville at the Amoco gas station on Rt. 3 across from Mohican Adventures Canoe Livery)