Main content starts here, tab to start navigating
Old Pine Treehouse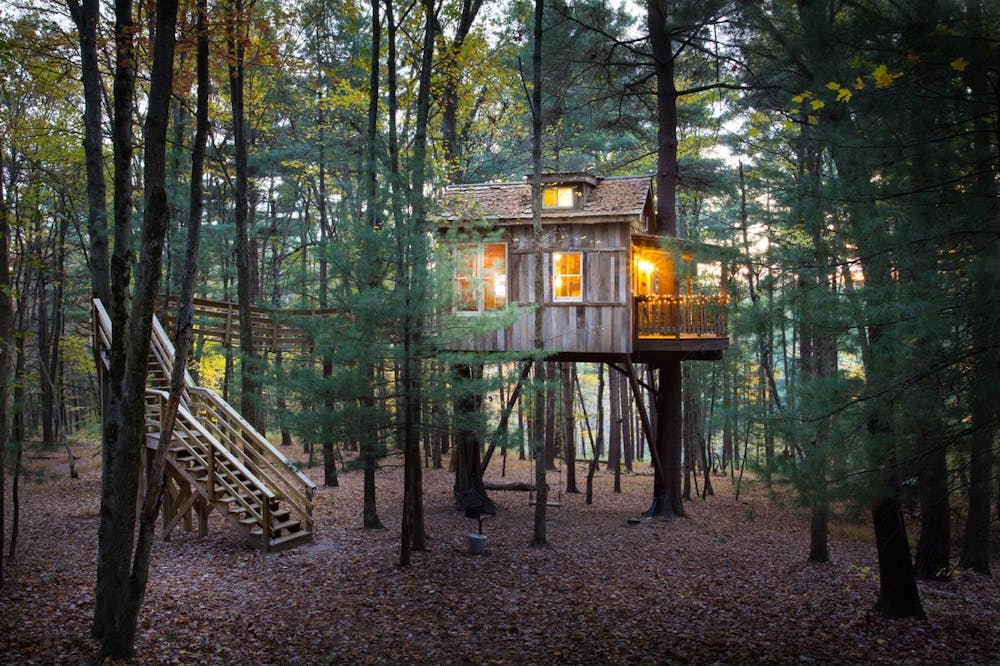 Welcome to the Old Pine Treehouse! This charming treehouse is nestled amongst the only pine stand on the property against a gentle hillside and accessed by a stunning staircase and suspension bridge. Although just built-in 2015, guests feel as if they are stepping back in time 150 years. 1800's feel decor and timeless charm, guests embrace the past. The treehouse was constructed with 100% reclaimed materials including 100 year old barn siding and hand hewn beams. Cedar shake roofing brings that antique 1800's feel along with its vintage interior accents. You will be wrapped in luxury with an indoor deluxe bathroom/shower and decadent bedding. The treehouse includes a small kitchenette, living room, bathroom, first floor bedroom (1 queen bed), upstairs loft (queen bed), small eating area, and outdoor shower (warm weather only). Fun and unique design features include a sliding bedroom barn door, dramatic loft design overlooking the main living area, private decks built around pine and oak trees, and expansive windows to take in the bird's eye view.The kitchen cabinets were constructed out of reused, 100 year old barn wood with accent rough cut cherry doors and counters. A magnificent wrap-around porch provides views of the peaceful pine stand. This treehouse is truly a work of art.
Please call for more information - 740-599-9030
Slide 1 of 31
Slide 2 of 31
Slide 3 of 31
Slide 4 of 31
Slide 5 of 31
Slide 6 of 31
Slide 7 of 31
Slide 8 of 31
Slide 9 of 31
Slide 10 of 31
Slide 11 of 31
Slide 12 of 31
Slide 13 of 31
Slide 14 of 31
Slide 15 of 31
Slide 16 of 31
Slide 17 of 31
Slide 18 of 31
Slide 19 of 31
Slide 20 of 31
Slide 21 of 31
Slide 22 of 31
Slide 23 of 31
Slide 24 of 31
Slide 25 of 31
Slide 26 of 31
Slide 27 of 31
Slide 28 of 31
Slide 29 of 31
Slide 30 of 31
Slide 31 of 31
Amenities
Limited cell service at this treehouse (mainly text with Verizon and ATT only)
Bedrooms 2
Bedroom 1-lower level, 1 queen
Bedroom 2-upper level loft, 1 queen
1 Full bath - shower, toilet, blow dryer
1 Outdoor shower
All linens and towels provided
Soap, Shampoo & Conditioner
Kitchen - all plates, silverware, cookware, glasses and serving ware, mini-refrigerator, microwave, toaster, coffee maker with complimentary coffee and filters, 2 burners electric cooking element
Living room - sectional sofa, TV/DVD (for movie viewing only so bring DVD's! no satellite or cable) and rocker
Charcoal grill at ground level is included - please bring charcoal
Fire Pit
Picnic table
Deck - 4 chairs and table
Fully heated and A/C.
NO internet/wifi available. Enjoy your unplugged stay!
What to bring...
Kitchen - spices, ICE, aluminum foil, plastic wrap, ziploc bags, garbage bags, specialty cooking items (roasters, blenders, etc.), mini cooler for extra storage and ice.

Bathroom - Although towels are provided you may want to bring extra for outdoor activities. Bathrobe/slippers for outdoor shower when in season.

General - charcoal, firewood for outdoor fire pit (can be purchased in Loudonville at the Amoco Station on State Route 3 across from Mohicans Adventures Canoe Livery), Games, DVD's & Books
Treehouse Fun Facts
On May 1st, 2012, The Mohicans began an exciting project with treehouse designer and star of Discovery Channel's new series "Treehouse Masters", Pete Nelson, and commenced building our first treehouse- the White Oak. We have since completed a second Pete Nelson treehouse which was featured on the show in June 2013. Our newest treehouse, the Old Pine, is based on this same treehouse design technology. Click here to check out Little Red!